Welcome to Alfabe-Thursday at Jenny Matlock's where this week's letter of the week is "Y" for frozen yogurt!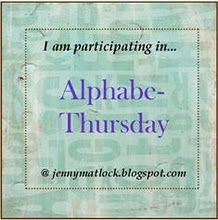 Happy 4th of July everyone! Let's hear it for the Red, White, and Blue! I whipped up this frozen yogurt tonight for my husband's birthday! Happy Birthday honey! What do the colors of red (strawberries), white (yogurt), and blue (blueberries) make when mixed --- this lovely colored yogurt! Surprise your family and make some for the 4th of July! This recipe has been adapted from a recipe in the book Sorbets and Ice Creams by Lou Seibert Pappas.
Recipe and Instructions for Blueberry Strawberry Frozen Yogurt
1-1/4 cups strawberries, hulled
1-1/4 cups blueberries
1/2 cup sugar
1/4 cup light corn syrup
1-1/2 tablespoons fresh lemon juice
2 cups plain non-fat yogurt
In a belender or food processor, puree the strawberries, blueberries, sugar, corn syrup and lemon juice. Put mixture into a large bowl and let stand for 20 minutes for the sugar to dissolve. Blend in the yogurt and place in ice cream freezer. Follow manufacturer's instructions for making ice cream. If you like, when ice cream is done, you can put the ice cream into a pyrex dish and place in freezer to make it harder. Freeze for about 2-3 hours depending upon temperature of freezer.
I am posting this at Foodie Friday at Design's By Gollum.
.