Hello and Welcome to the end of the train...the letter Z. I have had a fun ride on the train from letter G for Argentinian Gaucho to Z for Zours. Okay, so the dog days of summer have got me! I would rather do a posting on candy than zucchini bread or ziti pasta. Thanks to all of you Alphabe-Thursday fans for making this sooo much fun! I have enjoyed your posts and it really has been the most fun and enjoyable blog party! Thank you Jenny for hosting such a great party!
My daughter was very anxious for me to post my entry on Zours...she even went so far as to write a message on Word and leave it up there "Post the Zours post now or you will have damage to your computer! My kids love Zours!
I am posting this with Jenny Matlock's Alphabe-Thursday where the letter of the week is "Z."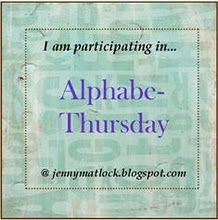 ______________________________________________________