This is a blog entry about my mother Nedra and her Noritake china that she acquired when she was a young married woman. The above picture is of my mother and her best friend and cousin Ella. Ella is on the left and my mother Nedra is on the right in the fur collar.
My mother's name is Nedra. She was born in Southern Utah in 1925 in the little town of Tropic, Utah. She died in 1990. Tropic is very near Bryce Canyon National Park. In fact, there are some trails that you can take to get to Bryce Canyon from Tropic. I note that she was from Utah because there are many unusual names, like Nedra, originating in Utah. As a side note, my mother once dated a boy named Arden which coincidentally is Nedra spelled backwards; she did not marry him. My mother talked about Side Hill Galoots and Wim Wams that used to roam near Bryce Canyon -- fictional animals they talked about. Imagine having an amazing National Park in your backyard!
A shot of Bryce Canyon National Park at sunrise.
When my mother's brother was stationed overseas for military service, my mother had her brother buy her a set of Noritake China. After World War II, sales of china dishware from Japan helped their economy recover from the ravages of war. Many servicemen stationed overseas brought china back to their loved ones.
The marking on the backside of Nedra's Noritake.
My mother's Noritake pattern is LaSalle. It was produced in Japan from 1950 to 1955. On her china marking you can see an M in the middle of the laurel wreath. Until I looked closer, I always thought that the letter was an N for Noritake. In 1953 the Noritake company changed the letter enrobed by the laurel wreath from M to N. The letter M stood for the Morimura brothers who started the Noritake Company. So because there is an M on her marking, her china was made in 1950, 1951, or 1952.
I do not believe my mother was able to pick out her china. When I was younger I did not appreciate this set of china. After both my parents died and we were dividing their possessions, I almost didn't take the china. I am so glad I did because I have grown to love this china. The flowers and leaves are what I would call taupe-colored. I don't know, maybe there are light brown?
To me this china has a slightly Asian feeling and I went with a slightly Asian theme for this tablescape. I loved how using placemats and bamboo napkin holders created a more modern feeling for this tablesetting.
I began with these placemats I found at Wal-Mart.

I then added the dinner plate. I love the large floral design on the plate.
I added a salad plate.
I added a fruit bowl.
I liked these taupe colored napkins with the bamboo napkin holders.
I wanted a closeup of the tea cup. I love the gold handle and the flowers inside the cup. We don't drink coffee or tea, but I added it because I think the cup is very pretty.
So here is a full view of the tablesetting. I brought some candlesticks in and some mini decorative luggage that I think enhance the tablesetting. I also feature the picture of my mother and her cousin Ella.
Here is a side angle view. I used my sterling, the Damask Rose pattern by Oneida. I wonder how this tablesetting would look with gold silverware to coordinate with the gold rim on the china. My mother used to have a single set of gold silverware that she would put out at the birthday person's placesetting.
My mother's china set includes a lovely covered vegetable bowl, a footed gravy boat, two serving platters, and an oval serving dish. It also includes bread plates and soup bowls. I will feature some of these on a later tablesetting.
Thanks for dropping by and visiting Nedra's Noritake!
I am posting this with Jenny Matlock's
Alphabe-Thursday
where the letter of the week is "N". Click on the link below to find other fun and thoughtful entries.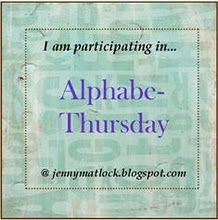 I am also posting this with Susan at Between Naps on the Porch for
Tablescape Thursday
. Come join the party and view amazing tablescapes!