This is the best recipe for Tomato Basil Soup! You really need to try it and it has only
THREE
ingredients! I know, I know, some of you might doubt! I have made another famed, and complicated, recipe for Tomato Basil Soup and it didn't turn out well! I talked to my sister and she recommended this recipe that was served at her church function. Sometimes, easy and simple IS best!
Trust me on this!
It's a cloudy and dismal day today and Tomato Basil Soup would be perfect to serve on a day like today.
As you may know I participate in Jenny Matlock's Alphabe-Thursday. The letter of the week this week is "T" for Tomato Basil Soup and Tales from Nine Mile Canyon. I will post the recipe for the soup and then show pictures of our Memorial Day trip to Nine Mile Canyon where petroglyphs are not rare and both ancient and somewhat modern civilizations have left remnants of their lives leaving us to only wonder about the tales they could tell.
Tomato Basil Soup Recipe
4 cups Campbell's Tomato Soup -- Just as it comes out of the can.
2 cups non-fat half and half --It is important that you use the non-fat version of half and half.
3-4 tablespoons of prepared basil pesto
Put soup and half and half in a medium saucepan and heat. When heated, add prepared basil pesto! That's it! Note: You can find basil pesto in the pasta sauce section or produce section of your grocery store. I also added some freshly ground pepper and some grated Asiago cheese to top the soup.
I am posting this "T" post with Jenny Matlock's Alphabe-Thursday.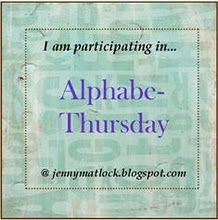 Tuesdays at the Table
Tempt My Tummy Tuesday
Tasty Tuesday
Tales From Nine Mile Canyon
On memorial Day we went to Nine Mile Canyon. It is an area that was at one time inhabited by the Fremont Indians, agriculturalists, that populated parts of the Southwest from approximately 400 A.D. to 1300 A.D. There is no single accepted theory about what happened to the Fremon Indians after 1300 A.D, however in the Nine-Mile area, they did leave behind lots of petroglyphs (etched) and some pictographs (painted). There are also some dwelling structures and storage buildings still standing. In Nine-Mile there are also more recently abandoned homes and structures and even an abandoned ghost town named Harper. The name Nine Mile Canyon is a misnomer as the canyon is more like 45 miles long. One of the entrances is near Wellington, Utah. If you go bring water and food and have a full tank of gas; there are no services, aside from the Nine Mile Ranch, in the canyon.
We had a pleasant picnic at Cottonwood Glen Picnic Area.
This is one of the most famous panels in Nine Mile. It is called the Great Hunt Panel. One of the reasons that it is famous is because the panel depicts an event, rather just a collection of figures. To see this panel, if you are coming from Wellington, it is at the end of the canyon.
I like the fingers and toes on this figure.
This is part of the "Buffalo" Panel.
More beautiful rock art!
What are they trying to tell us?
The Fremont Indians tended to depict human-like figures with trapezoidal body shapes. This petroglyph was a favorite of my children!
This was the only pictograph that we saw, although I am sure there are a lot more!
There are few residents living in Nine-Mile Canyon today. There is a bunk and breakfast owned by our friend's parents called the Nine Mile Ranch. We only saw one other occupied home. You can also see modern historic sites from the earlier settlers in Utah. There is also the town of Harper, which is a ghost town.
We liked the wreath on the door!
I wonder who lived here? What is their tale to tell?
Although we were not geo-caching, my children found a geo-cache. I wonder what future generations might think if they found a box that contained lipstick, Germ-X, rocks, coins, a cup, and other not so exciting items? What tale would this geo-cache tell?