Back in our early years of our marriage, my husband I flew to Florida and drove all over the state. We took the impressive ride on the Overseas Highway to Key West. We spent a few nights in Key West Florida and discovered key limes. Key West is famous for Key Lime Pie. I came home with a bottle of key lime juice in my suitcase! I had never had key limes or key lime juice before. Now, key limes are readily available and I still love them. They are more acidic than persian limes, the normal limes.
I put together this recipe called "Key Lime Bites" after being disappointed with other key lime cookies. I wanted the strong tangy flavor of key limes, not just a mere trace of flavor!
Notes: These are the kind of cookies that just taste better the next day after baking. The cookies I have pictured are a tablespoon-sized. If you want even more key lime flavor, you could make the cookies smaller.
Key Lime Bites
Cookie Ingredients and Directions
1 cup butter
2 teaspoons key lime juice
2 teaspoons grated key lime peel
1/4 cup powdered sugar
2 cups flour
1/4 teaspoon salt
1/2 cup chopped macadamian nuts
In a medium bowl with electric mixer, cream butter, sugar, key lime juice and peel until mixture is creamy and fluffy. Next add flour and salt and beat until thoroughly incorporated. Add macadamian nuts to dough mixture by hand. Roll dough into one inch balls and space about two inches apart on a cookie sheet. Bake in a 350 degree oven for 10 minutes. Do not overbake. Place cookies on a wire rack and cool for about 5 minutes. Ice cookies according to directions below. Key limes do not provide much grated peel. You could cheat and grate peel from a persian lime.
Icing Ingredients and Directions
1/4 cup key lime juice
1 teaspon grated key lime peel
2 cups powdered sugar
Mix key lime juice and peel and powdered sugar in a medium bowl until thoroughly mixed. Dip cooled cookies in icing ingredients. After dipping, place on wire rack to dry. Dip another time in icing and place on wire rack to dry. Makes about 18 cookies.
I am posting this with Alphabe-Thursday. Click on below to read other "K" posts.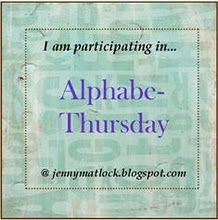 I am also posting this with Michael at Foodie Friday.
=