My Jell-O Egg in Half -- NOT very appealing!
I am submitting this post to Jenny Matlock's Alphabe-Thursday where the letter of the week is "J." You can find other "J" posts by placing your cursor on the link below and clicking on the displayed link.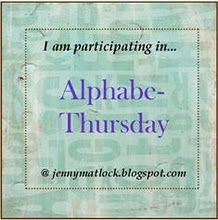 When we were young, my mother would make dyed Easter eggs by putting two holes in an egg, one in the top and a larger hole in the bottom. You would blow in the top hole and, hopefully, the white and the yolk would come out in the bottom. Then you would dye the eggs.
At least one Easter, after blowing out the yolk and white, my mother poured Jell-O in the eggs and refrigerated them. After the Jell-O became solid, she peeled off the shell and voila....Jell-O eggs! So on Easter Sunday she brought out the Jell-O eggs and instead of eating them, the kids played catch outside with the Jell-O eggs! Or did we just throw them at each other?
Okay, here is the kind of funny part with a caveat...I AM getting older and maybe my memory is not
quite right!
That next fall when we were raking leaves in the same area where we had thrown the eggs, we found
some of the Jell-O from the eggs still in tact!
Mind you, I lived in Wisconsin with hot, humid, wet summers! Okay, so could this really be possible or am I losing it? What do you think? I asked my scientist-type husband if he thought it could be possible and his very scientific answer was "maybe!"
A few years ago the Jell-O company made a contraption for Jell-O eggs. As you can see from the picture above, I haven't had a lot of success with it; the contraption tends to break the eggs in half when you open it! Forget the Jell-O, I am sticking with chocolate eggs!