If you are in the mood for something spicy and different, this satay is for you! I have been making this for years and I just love the peppery flavor of this "ketchup"! I love the intoxicating smell of freshly ground pepper and use freshly ground pepper every time I can! The Indonesian ketchup also boasts the flavors of nutmeg and fresh ginger to ramp up the flavor a bit.
I am playing along with Jenny Matlock for Alphabe-Thursday where the letter of the week is "S" for Satay. I encourage you to visit her Alphabet Party where you will be treated to fun and informative "S" posts this week.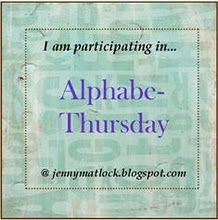 Unfortunately, I can not credit this recipe. It is one of those recipes that I just clipped from a newspaper or magazine and the clipping doesn't contain the original source.
Indonesian Ketchup:
1/2 cup molasses
1/2 cup reduced-sodium soy sauce
1/2 cup firmly packed brown sugar
2 tablespoons cracked black pepper
2 tablespoons minced fresh ginger
1 teaspoon nutmeg
Combine all ingredients in medium saucepan. Bring to a boil; reduce heat and simmer, stirring frequently, until slightly thickened, about 7 to 10 minutes. This sauce can be made ahead (up to 2 weeks). Cover and refrigerate. Makes about 1-1/4 cups.
Chicken Marinade:
2-3 pounds boneless, skinless chicken breasts
1/2 cup water
1/4 cup fresh lime juice
1/4 cup reduced-sodium soy sauce
2 to 4 tablespoons minced jalapeno or serrano chiles
1 tablespoon cracked black pepper
Cut chicken breasts into bite-sized chunks. Combine water, lime juice, soy sauce, chiles, and black pepper in medium bowl and add chicken and toss to coat. Cover and refrigerate 3 to 4 hours, stirring once or twice.
Grilling:
Prepare grill. Remove chicken from marinade and thread on skewers. We ususally thread about six pieces of chicken on each skewer. Grill until cooked through and browned. Just before removing from grill, brush lightly with the Indonesian ketchup. Serve with additional Ketchup for dipping. Serves about six. Note: Soaking the skewers in water for about 1/2 hour before barbecuing can help so that the skewers don't burn so much.
When we made these recently, we didn't brush the skewers with Ketchup while they were on the grill. We just served the ketchup as a dipping sauce. Some of my children are not fans of the ketchup; others are.
I am also posting this with the following:
All the Small Stuff's
Tuesdays at the Table.