"R" is for Rosemary! I love the herb rosemary, how about you? The original recipe came from a newspaper food section. Where I used to work, we received the Los Angeles Times, the San Francisco Chronicle, and the Sacramento Bee; the newspapers had great food sections in those days. I have long lost the recipe for this pasta and this is my version. I hope you will try this recipe; it is really simple to make and yummy to eat!
When I first started making this I lived in California, and even in winter, when I needed fresh rosemary I would run to the parking lot of my church and snip some off the bushes. I guess I didn't ever think about whether the rosemary had been fertilized or not! Now, during the summers I have my own fresh rosemary.
If you are unfamiliar with leeks, click
HERE
for a fun article on leeks and cleaning them by David Lebovitz. He mentions that the French use leeks frequently in their cooking. I also love leeks! By the way, the leeks I have used are never as dirty as he shows in the article. Don't skip using the feta; it is just what is needed in this pasta. I also think this would be a great, minus the broth, pizza topping!
Rosemary Leek Pasta Recipe:
1 (13.25 ounce) package of whole wheat pasta
3-4 nice sized leeks, cleaned and chopped into small pieces. Do not use the dark green, tough part of the leek.
1 tablespoon olive oil
1 tablespoon butter
Rosemary leaves from four (1 to 1-1/2 inch) pieces
1 (14 ounce) can of vegetable broth
2 teaspoons corn starch
1/2 cup feta cheese
1/2 cup walnuts, toasted
Freshly ground pepper to taste
Salt to taste
Cook pasta according to package directions. Put cleaned, chopped leeks and olive oil and butter in a large skillet. Cook for about 10 minutes until leeks are soft, but not browned. Add vegetable broth and simmer for a few minutes. Then add corn starch to thicken and add rosemary leaves. Season with salt and pepper. Put 1/4 of pasta on dinner plate with 1/4 of leek mixture. Top each dinner plate with 2 tablespoons of feta cheese and 2 tablespoons of walnut. Note: If you are a huge fan of rosemary, you may add more. If you are not a fan, use less rosemary. Serves four.
I am posting this with Jenny Matlock at Alphabe-Thursday where the letter of the week is "R." Come stop by to see interesting and funny posts!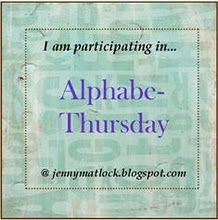 I am also posting this with Mama Bird's
Whatcha Got Cooking Wednesday.