I have been participating at Jenny Matlock's Alphabe-Thursday party for the past ten weeks. It is a fun forum to submit your posts on the letter of the week. I try to make recipes that correspond with the letter of the week. This week, the letter of the week is "Q." If you didn't already know, there are not many foods that begin with the letter Q. I have chosen to make a Queso Dip. Yes, I know that queso is a Spanish word! You have to cheat a little bit! I guess I could have made something with quince, but I have never eaten one. Would quince be confused with Quince, the Latin American coming of age celebration of a girl's 15th birthday? Just a little rambling here!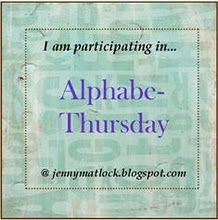 Don't forget to enter my giveaway which ends this Friday. Click on
giveaway
or just click on the kiwi Le Creuset dishes on the left corner of my blog.
This is Emeril LaGasse's Queso Dip; I found it at ABC's Good Morning America's recipes. Since I have never made this dip before, I didn't make any alterations to his recipe. It WAS really good and very rich tasting! A little goes a long way! It calls for white cheddar, which I used, but I think normal cheddar would be just fine, and a bit cheaper.
Queso Dip Recipe:
2 tablespoons vegetable oil
1 cup chopped yellow onion -- Make sure you chop these finely.
1 teaspoon Essence, plus more to taste -- See below for the Essence recipe.
1 teaspoon Mexican chili powder -- I just used regular chili powder.
1 cup finely chopped seeded tomato -- Just pull out the seeds with your finger.
2 teaspoons minced garlic
8 ounces white Cheddar cheese (1/2 pound), shredded (about 2 cups)
8 ounces Monterey Jack cheese (1/2 pound), shredded (about 2 cups)
1 cup canned, chopped mild or hot green chiles
3 tablespoons sour cream
2 tablespoons chopped fresh cilantro -- Don't forget to use cilantro; I am a huge fan!
1 teaspoon ground white pepper
1/4 teaspoon salt
Tortilla chips, for serving
Cooking Directions
Heat the vegetable oil in a medium saucepan over medium heat until hot, about 1 minute. Add the onion, Essence, and chili powder and cook, stirring, until soft, about 5 minutes. Stir in the tomato and garlic and cook, stirring, for another 2 minutes. Reduce the heat to medium-low and add the cheeses and chiles. Cook, stirring constantly, until the cheese melts, about 2 minutes. Stir in the sour cream, cilantro, white pepper, and salt. Add more Essence to taste if desired. Serve immediately with tortilla chips.
Recipe for Essence
2 1/2 tablespoons paprika
2 tablespoons salt
2 tablespoons garlic powder
1 tablespoon black pepper
1 tablespoon onion powder
1 tablespoon cayenne
1 tablespoon dried oregano
1 tablespoon dried thyme
In a small bowl combine all the ingredients thoroughly. Store in an airtight container.
I am posting this with the following:
Jenny Matlock's Alphabe-Thursday